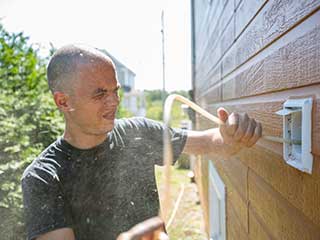 Our experts offer a range of cleaning services for dryer vents – we recommend having your dryer cleaned on a regular basis to prevent fire hazards from developing in the future.
Why Should I Keep My Dryer Vent Clean?
If a dryer vent is dusty, the inside temperature can increase significantly. When it is plugged into the electrical system, this could mean that it catches fire. This is why fire departments warn people to keep vents and ducts clean and properly maintained.
Is My Dryer a Hazard?
If your clothes are taking longer to dry, you might need to call us to have this checked out. If your dryer is hotter than usual or you notice that a room where your dryer is located is becoming damper, it is time for the vent to be checked. If you sense a burnt smell near your dryer, it is best to call us immediately so that we can send a team to check the situation and prevent any damage to your house.
Do I Need a Professional?
Even if you cleaned the lint trap of your machine every time, the lint will still build up inside the unit and inside of the vent itself. Unfortunately this means it won't be possible for you to prevent the lint build-up indefinitely, you'll need a professional with the right tools and know how to come and do the job for you.
Long & Short Dryer vents
When it comes to fire prevention, shorter vents are usually a better option as the air has a shorter path to blow through and the possibility of accumulation of lint or dust decreases. However they still need to be professionally cleaned from time to time. If your dryer vent has more elbows, this will increase the risk of dirt build up and it will likely need to be cleaned more often.
At Air Duct Cleaning Pasadena, we employ the best specialists who can fix any problem and perform a complete and thorough cleaning of your dryer vent. If it's been a while since you've had your dryer vent cleaned, now is the time to ensure it is lint-free and safe to use. Just give us a call today to make an appointment.