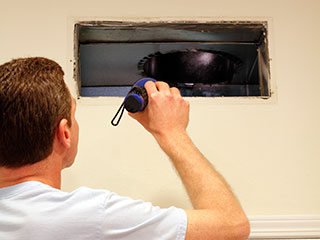 Many of us understand the importance of conducting regular maintenance such as air duct cleaning. Such tasks, when done correctly and at the right time, can extend the lifespan of your system, ensure that it continues to do its job to capacity, and will help to maintain the quality of the air in your home.
When Should I Check My Ductwork?
It isn't always easy to tell when exactly such tasks should be undertaken. Should they be conducted once a year, twice a year or every few months? The answer is not always as clear cut as giving your system an exact time and date, so you may find that it depends largely on the condition of your ducts and the quality of your air.
If you don't know whether or not you need your air ducts sanitized, we recommend following the steps below.
Check Your Indoor Air Quality

Cleaning your vents is a crucial maintenance task and should never be left undone, but how to tell when the service is needed? We recommend you call a technician who offers air quality testing for your home. They are always best equipped to check your home's air for varying levels of contaminants. But what kind of contaminants would they be looking for?

Understand the Results of the Air Quality Test

Each of the below are common problems faced by households with air ventilation systems and contaminations such as these can pose serious health risks, not to mention an unpleasant living environment. Homes with indoor pets and smokers are especially vulnerable and so may find the need for more regular and rigorous cleaning to be done.
Particles of dirt that have built up over time.
Tufts of lint which block your vents and spread into the air you breathe.
Mold and fungus which spread their spores through your ventilation systems and contaminate your air with allergens and pathogens.

Understand if Repairs are Needed

Although dirt is the most common cause for concern with regards to the operation of your air duct system, it certainly isn't the only one. If your vents have been cleaned but there still seems to be a problem with its operation or your air quality, then the defect may be a more latent one in the system. Fear not, our professionals will be able to fix it. An ineffective system often points to a need for air filter replacements, or broken seals which hamper the performance of your system.
If you need to have your system seen to as soon as possible, then be sure to contact our professionals at Air Duct Cleaning Pasadena. We offer professional air testing, duct inspection and any further maintenance tasks that you require!