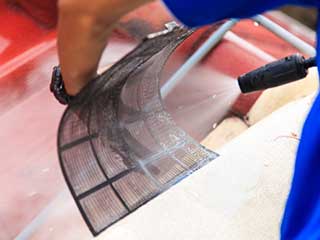 Each season has its own peculiarities and comes with its own pros and cons. The changing of the seasons, as we transition from fall to spring, often represents a good time to clean the house, make home improvements, and perform that all important HVAC maintenance.
Some Useful Guidelines
Below we provide some tips for maintaining your ducts and ensuring your house is ready to welcome the next season, whatever it brings. You don't need specialist knowledge to run through this checklist, just the desire to ensure the air you are breathing is as clean as possible!
Give your Air Filters a Once Over
Did you know that all HVAC units have filters and must be cleaned regularly? Filter cleaning is easy and will not take much of your time. You just have to locate the filter, rinse the dirt out with water and give special attention to the condenser unit of your AC because external units can get especially dirty.
How Do your Air Ducts Look?
Open the covers of the ducts and check their condition. Are they visibility dirty? If yes, you can always get your vacuum cleaner and give them a clean with a sponge, water, and mild soap (remember to protect your hands with gloves!).
Unfortunately, if your air ducts are really filthy, there is only so much you will be able to do here without an expert. This is because there is only so much of the duct you can reach yourself. If it's been a while since you professionally cleaned your air ducts, we recommend you give us a call at Air Duct Cleaning Pasadena. During a visit, we will also check for damages. Any cracks must be sealed; if they are not insulated properly, we will apply air duct coating repair. In general, we recommend scheduling regular maintenance visits and indoor air quality checks; the quarterly changing of the seasons represents a great time to timetable this in.
Take Action Now
Dirty air ducts may be responsible for your sneezing and bad indoor air. If there is already dirt inside the ducts and you don't attempt to maintain your HVAC system, the dust will keep gathering, encouraging the birth, growth and multiplication of germs and bacteria. Perform these steps and give our experts at Air Duct Cleaning Pasadena a call today to ensure your HVAC unit works better for longer!