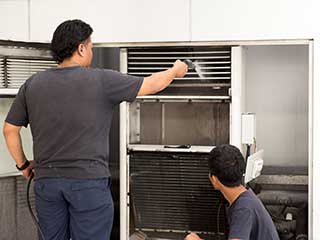 Your HVAC unit is bound to get very grimy and not work as well as it should over the years from the various substances that are drawn in and trapped inside, so get it cleaned out with our top-quality cleaning services! Your air will be fresher in no time.
Cleaning Services You Can Count On
You always want the best of the best with any service that has to do with your home, and our team is here to provide that when it comes to your HVAC unit! When it pulls in air for heating and air conditioning, it's also drawing in unwanted materials in the process. Anything from pollution to dirt will get trapped inside, and unfortunately allow it to taint the air as it moves through into your home. This lowered quality of air can cause breathing issues for those who may already have trouble like asthma, allergies and more. It also wastes energy as your unit has to work longer in order to get air through the blockages. Our professionals can take care of it with our excellent cleaning services! Your unit will be thoroughly cleaned out in no time thanks to our experience and use of the best tools available.
Fast And Easy Maintenance
Another important step towards ensuring that your HVAC unit will be working properly for years to come is by getting periodic maintenance performed on it! Our experts will have no problem checking over your unit for any signs of wear and tear and catching any potential problems now before they cause a lot of issues for you later on. This way you won't be caught off guard by the unit breaking down suddenly when you need it most! It also helps extend its lifespan, making it a great investment.
Why Wait Any Longer?
Poor air quality is taxing on your family's health, so make sure you get your HVAC unit cleaned today by our trustworthy experts! It'll be over with before you know it. Just call Air Duct Cleaning Pasadena now to schedule!